The Art Deco Gallery
Le Livre des Rois (The book of Kings)
Le Livre des Rois (The book of Kings), translated by J. C. Mardrus, with wood cuts by F.-L. Schmied, 1930. Bound by Grégoire Levitzky. François-Louis Schmied is the renaissance man of the art nouveau/deco period. He is an editor, a painter, a printer, an engraver, a bookbinder. During WW I, he enlisted in the French Foreign Legion and lost an eye. His books are works of art and in many museums and libraries (the William Andrews Clark Memorial Library, in UCLA, has almost a complete collection of his books). The illustrations are obtained by engraved woodblocks. Several are needed to produce an engraving. This book includes the decomposition of some plates. One of them needed no less than 17 successive printings to achieve the final effect. This book also contains a signed letter from Schmied. One of his masterpieces.
This a decompostion of a wood engraving for the Book of Kings. It shows all the steps involved in reproducing the colors of the final product. One can see what a painstaking and meticulous work it is, as a different woodblock is required for each phase.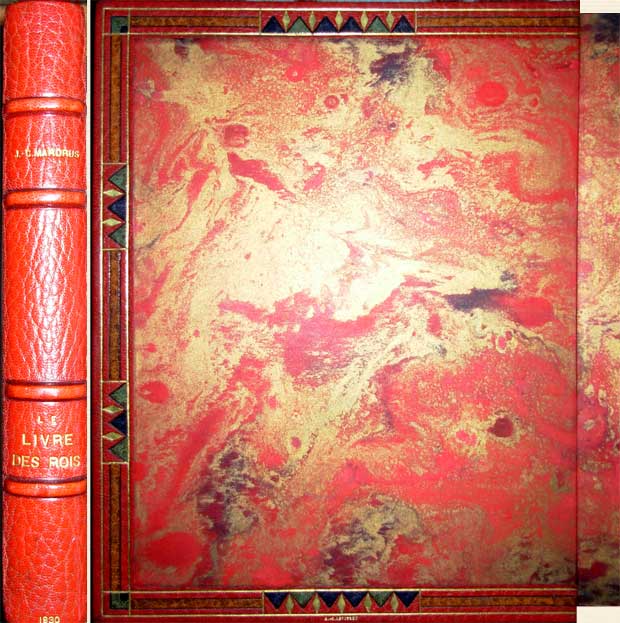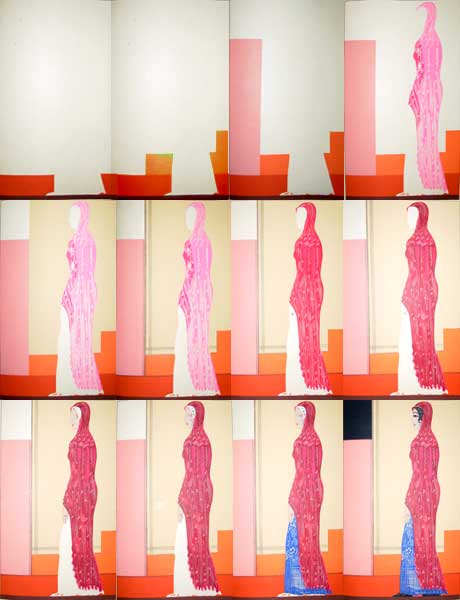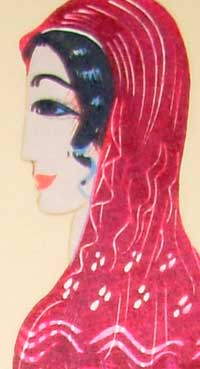 La Création, (The Creation)
La Création, (The Creation), translated by J. C. Mardrus, with wood cuts by F.-L. Schmied. 1928. One of 20 copies. Bound by Ch. Gonin in a dazzling art deco binding with doublures of leather and multicolored silk. The book contains the first three books of Genesis. The illustrations are inventive and composed in brilliant colors.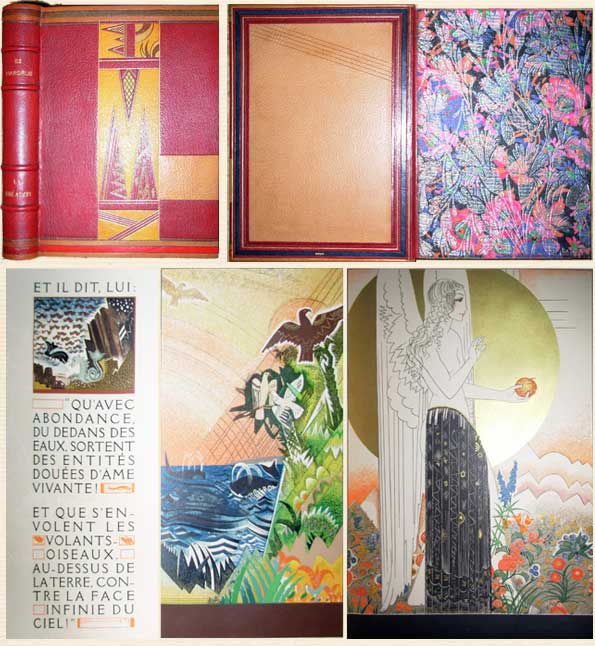 Le Jardin des Supplices, (The Torture Garden)
Le Jardin des Supplices, (The Torture Garden), by Octave Mirbeau, illustrated by Raphael Freida. 1927. Bound by Saulnier. The novel is sarcastically dedicated "To the priests, the soldiers, the judges, to those people who educate, instruct and govern men, I dedicate these pages of Murder and Blood." It tells a bitter tale of intrigue, corruption and extreme brutality. "Ah, yes! the Torture Garden! Passions, appetites, greed, hatred, and lies; law, social institutions, justice, love, glory, heroism, and religion: these are its monstrous flowers and its hideous instruments of eternal human suffering." states chapter 9. The ghastly, shocking and staggeringly powerful plates by R. Freida complement the text perfectly. Oscar Wilde described the book a "very revolting to me, but for all that, wonderful."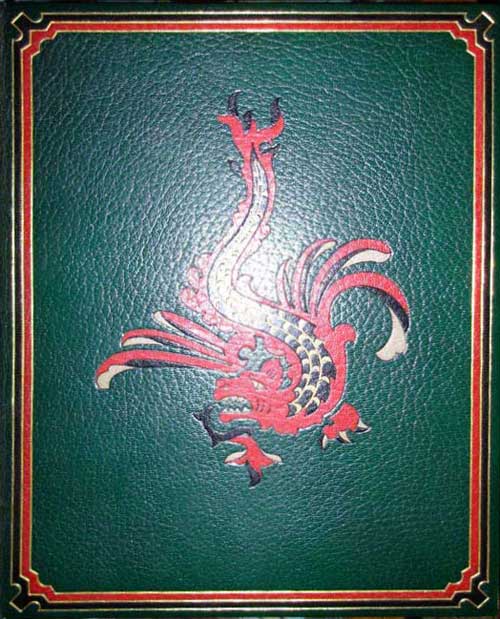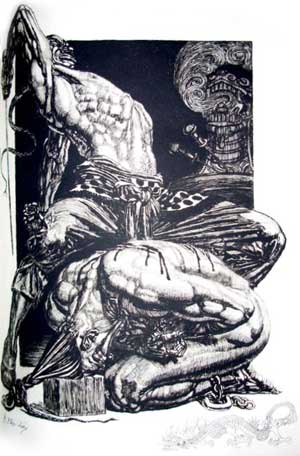 L'An Prochain A Jerusalem, (Next Year in Jerusalem)
L'An Prochain A Jerusalem, (Next Year in Jerusalem), by J. & J. Tharaud. 1924. This is one of the 156 copies on Japanese paper. It is bound by Pierre Legrain in the Art Deco style. This is a full leather binding decorated with geometric inlays and triangle gilt filets. The doublures are black leather and white silk.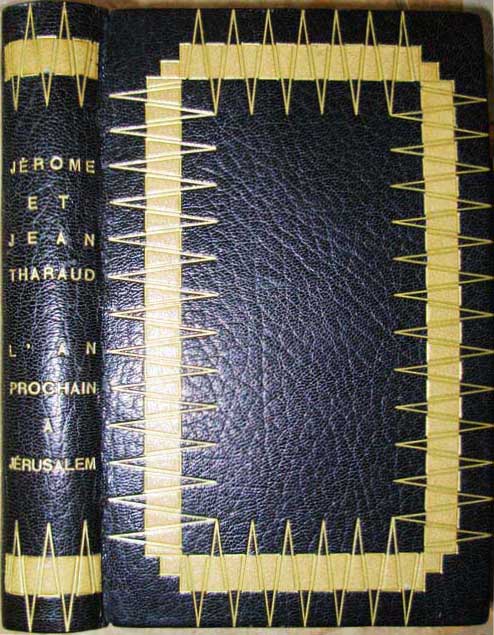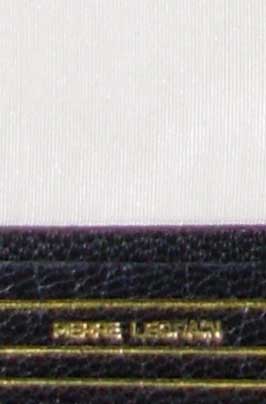 Dominique
Dominique, by E. Fromentin, with etchings (some enhanced by hand-coloring) by P. Humbert. 1937. Full leather binding by Suz Bachet.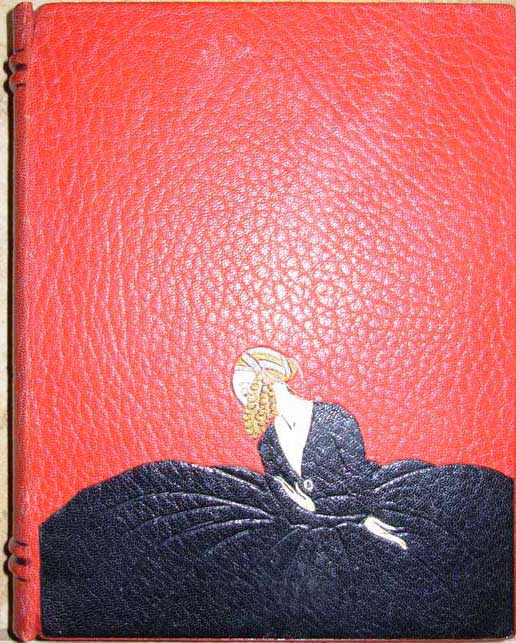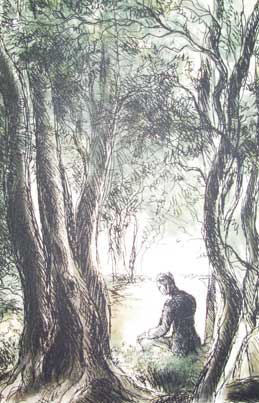 Physiology de la Boxe, (Physiology of Boxing)
Physiology de la Boxe, (Physiology of Boxing), by E. de Courieres, with lithographs by Luc-Albert Moreau. 1929. Full leather Art Deco binding by Pierre Legrain. One of 242 copies. P. Legrain (1889-1929) was the leading and most influential of the Art Deco binders from the 1920's to the 1950's. While Legrain represented the early phase of Art Deco bindings, Rose Adler (1890-1959) embodied the later phase, incorporating snake skins, beads, metal, gems in her bindings. Art Deco binders include Marot-Rodde, Paul Bonet, Madeleine Gras, De Leotard to name but a few. The bookbindings of P. Legrain and R. Adler were shown in 2004 at the NY Public Library.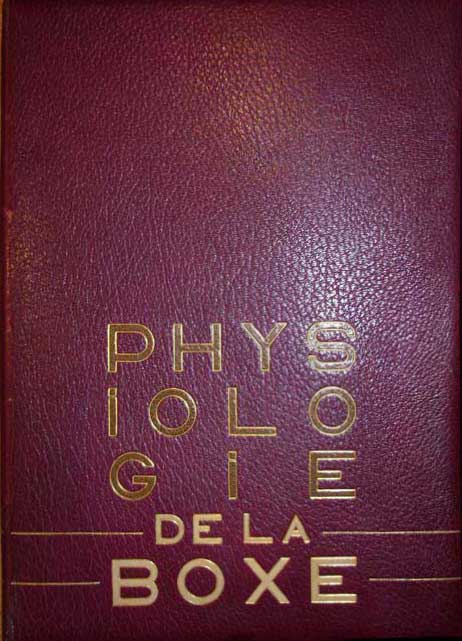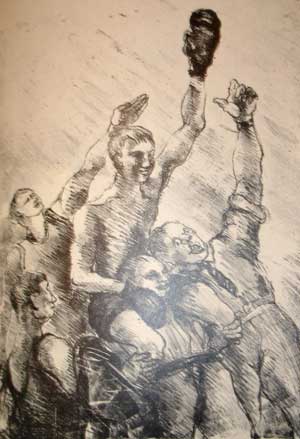 Contes Philosophiques, by Charles Maurras
Contes Philosophiques, by Charles Maurras, illustrated with copper engravings by G. Goor. 1928. One of 20 copies on Imperial Japanese paper. The full leather binding is by Marot-Rodde.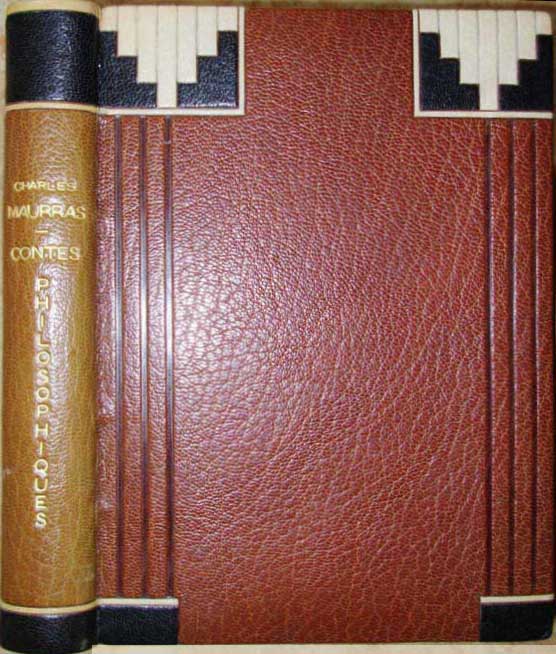 La Bataille, (The Battle)
La Bataille, (The Battle), by Claude Farrère, illustrated by D. Charles Fouqueray. 1925. One of 350 copies on Arches paper. A letter signed by the author is included in the book. One reference to Farrère today is the perfume "Mitsouko" by the perfumer Guerlain. Mitsouko was a beautiful Japanese woman whose name meant 'mystery'. She had a wretched love affair with an English officer in this novel. Full leather binding in oriental style by Marot-Rodde.
The watercolor, not from the book, depicts the American troops walking under the Arc de Triomphe in Paris on Bastille Day, July 14, 1919. The B&W engraving is from the book Les Croix de Bois (The wooden crosses) by Roland Dorgeles.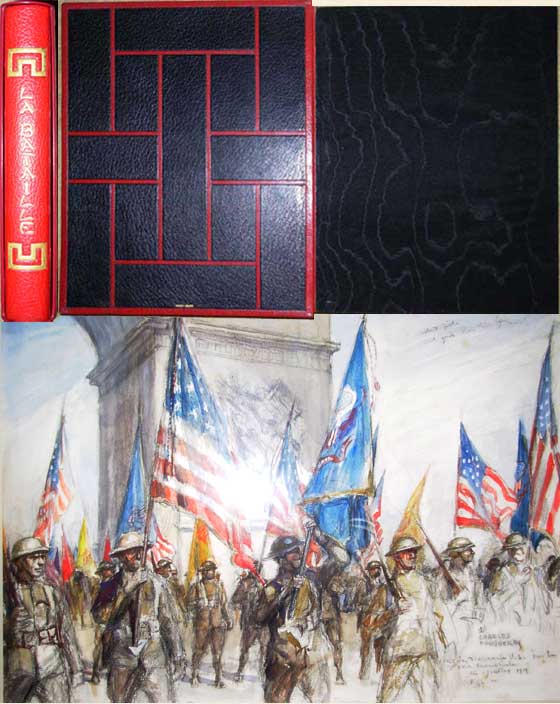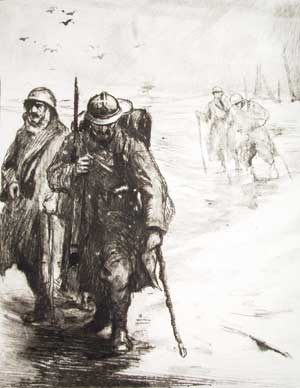 La Fée aux Miettes
La Fée aux Miettes, by Charles Nodier, illustrated by Pierre Gandon. One of 20 on Japanese Imperial paper, including two original paintings and a copper plate used for one engraving. Binding by Paul Bélard. I inserted the copper plate in the cover. Of course, the engraving obtained from this plate is a mirror image in the book.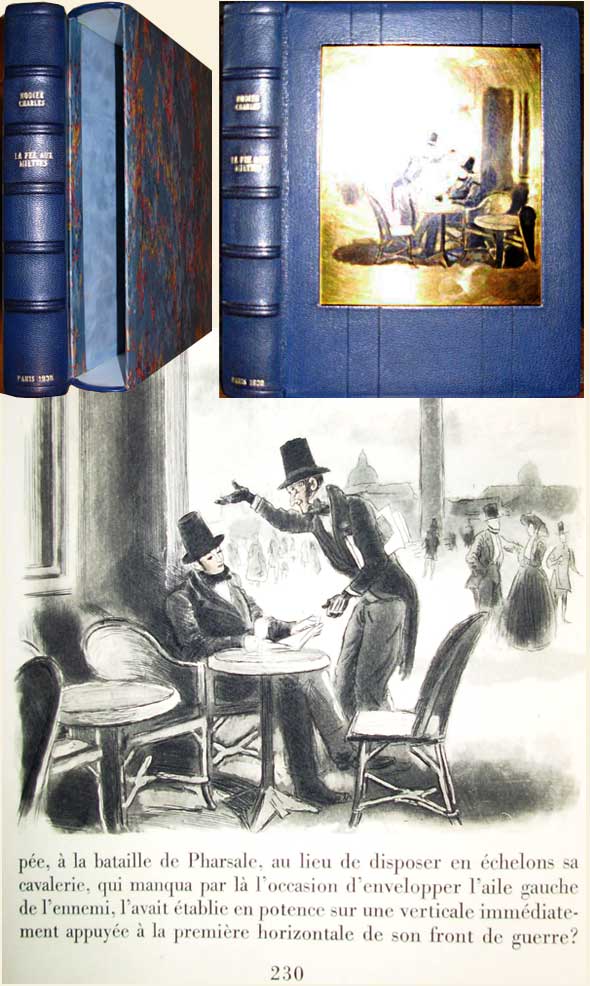 Rolla, by Alfred de Musset
Rolla, by Alfred de Musset, illustrated by Lobel-Riche. 1942. One of 65 copies on "Velin d'Arches" paper. In 1833, de Musset met the French writer George Sand. Following a trip to Venice, the intense love affair ended. Musset returned to Paris sick and depressed. During this period, Musset's work reflects his own crisis, as well as the spiritual one of this era. He implies that knowledge can lead to doubt, decadence and ultimately, untimely death in a wretched world from which any uplifting meaning has been exhausted. Lobel-Riche's illustrations convey this mood perfectly. The book was bound by Charles Lanoe.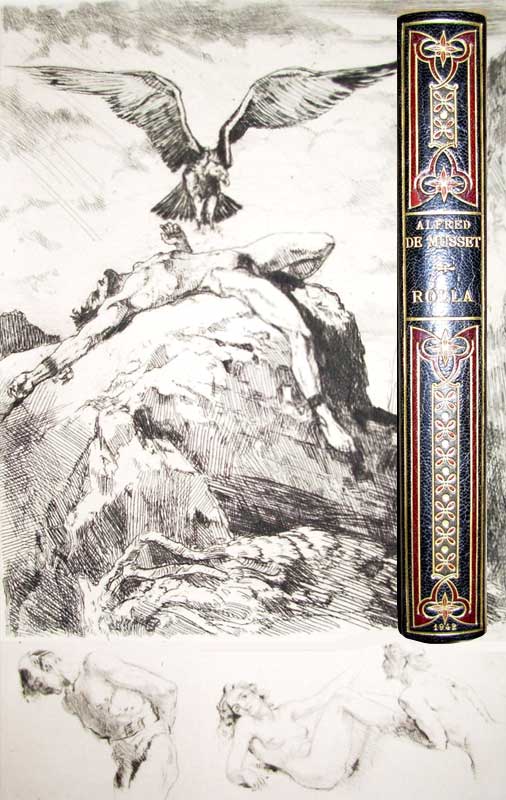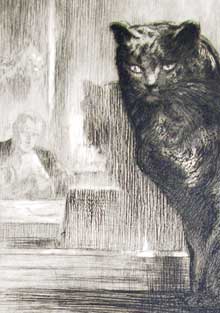 Hérodias, by Gustave Flaubert
Hérodias, by Gustave Flaubert, illustrated by William Walcot. 1928. Les Editions d'Art Devambez. Copy #23 of 25 on Japan paper, with 3 states of the illustrations and an original drawing by the artist. William Walcot (1874 - 1943) was in Russia. He studied architecture at the Imperial Academy of Arts in Saint Petersburg, then attended the Ecole des Beaux-Arts in Paris. Walcot's career as an architect in Moscow lasted six years, but he left a lasting heritage of refined buildings, pure Art Nouveau, such as the Hotel Metropol (1898). In 1906, Walcot relocated to London. He designed only one London building: 61 St James's Street, in 1933.
Rather, Walcot worked as an architectural draftsman, famous for his artistic presentation of other architects' designs and, at the same time, exhibiting his own work. He got involved in printmaking, creating reconstructions of ancient Greek, Roman, Babylonian and Egyptian buildings. He illustrated two French books, Salammbo and Herodias.
The engraving from the book is on the right. The original drawing is shown below. The third engraving is of the Brooklyn Bridge.