My Workshop
A Page from the History of New York Book Repair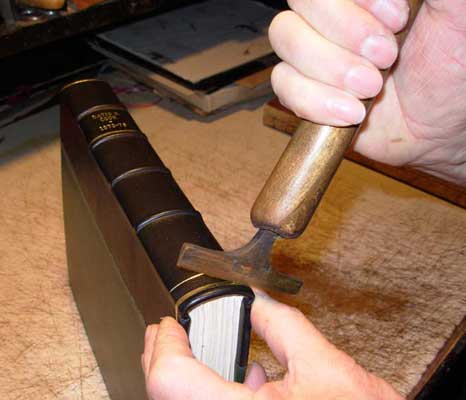 See some of the tools of the trade in the description of the main phases involved in the binding of a book from start to finish. The documents to be bound are from a journal that was kept since the 1940's. This particular book covers the years 1979 through 1976.
The Golden Age of Book Binding - A Chapter in the History of Bookbinding
The end of the 19th century saw in France a renaissance in bookbinding's approach, where the binding itself becomes as important as the book's content, a work of art in its own right. Incised leather panels, lacquered displays, inlays, gold, silver or palladium tooling, drawings, copper plates used to engrave illustrations in the book are used in the binding. These binders include Marius Michel, Ch. Meunier, P. Legrain (a designer of bindings), R. Kieffer, H. Blanchetiere, Ch. Gonin, M. Magnin, S. David, Marot-Rodde, Crette, Creuzevault, Lanoe, Noulhac and many more no less talented.
Kelliegram bindings were an innovation of the English firm of Kelly & Sons where (often) one of the engravings inside the books was reproduced on the cover with leather onlays.
Visit the gallery of Kelliegram paintings
Cosway-Fore Edge bindings are traditional leather bindings with miniature paintings inset into the covers. These beautiful bindings are named after Richard Cosway (1742-1821), the acclaimed English miniaturist portrait painter from the Regency era.
Civil War Books & Newspapers
While I read all the famous authors such as Bruce Catton, Ernest Furgurson, Shelby Foote, James McPherson to name a few, I collect books and illustrated papers that were published during the Civil War.