I have an immense respect for the written word and believe that without it, we would still be living in caves. As Pablo Neruda wrote: "Dies slowly he or she who does not read a book." My love of books began when I was a boy. It never wavered. As a kid, I read several books a week. I also became a book collector, beginning with visits to flea markets as a teenager.
As a young engineer, I went to work in the R&D Department of the Michelin tire company in France. Part of my first paycheck was spent having some of my "flea market acquisitions" properly bound. At Michelin, in 1972, I met a Brooklyn-born young woman who worked for Michelin in Long Island and was in France on a business trip. It was the beginning of a trans-Atlantic romance for a couple of years. We were married in 1974 and settled in Paris for a while. Even in the City of Light, I found myself at loose ends in the evenings. I decided to explore the possibility of binding books myself. Soon I was studying with Paule Ameline, a celebrated master bookbinder. For three years, two or three times a week, I attended her evening workshops. I loved it. You smell the leather, the paper, you touch and feel them, you use your hands and mind, and you're alive. I loved those hours.
In 1978, we returned to the USA. After a few years working for engineering companies, I found a position as a project engineer at Verizon. At the same time, I would mention to the book dealers I visited that I was a book binder. These dealers began giving me work. Soon, word of mouth developed a clientele, and what started as a hobby became almost a second job. It was rewarding. I have restored rare and not so rare books for individuals and collectors, and Long Island universities. One slip case I made for a rare book ended at the Metropolitan Museum of Art in New York City. Several clam shell boxes I created for a book dealer were shown on the TV series Pawn Stars.
In 2008 I retired, leaving me more time to do what I love. My friend Walter Sargent developed a website which has been very successful. Now the website is updated for mobile devices.
My greatest achievement though is having become a teacher. On December 6, 2014, as part of a segment called "Act 2", Newsday published a three-page feature about my craft. A few days later, I got a call from Linda Dickman, the librarian at Norwood Avenue Elementary School in Northport. A group of enterprising youngsters had banded together to create "The Book Doctors". Their aim was to fix damaged books in their library. She asked me if I would be willing to come to give them a little presentation. I went. I love libraries. They are secular cathedrals of knowledge. Learning is venerated there. In this beautiful room, I met a group of ten-year-old kids who believed in education, erudition and the unlimited power of reading. Answering their pointed questions was an experience I had never quite faced before. Their enthusiasm, eagerness to discover and absorb was amazing and, I must admit, contagious. Their first attempts were tentative, but they displayed them with unconcealed pride. They were like explorers relying on imprecise maps but determined to reach their elusive goal. From the moment I met them, I wanted to be a part of their undertaking, become a kind of guide.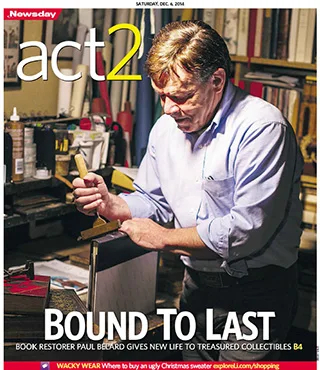 Since their skills relied a little too much on Scotch tape, I volunteered my services. The school accepted. For the past six years, I have passed along parts of my craft as a book restorer to these motivated kids. The hours I spend with them are by far the best ones of the week. Really, what is not to like? Their unaffected enthusiasm, their genuine trust, their uncomplicated happiness, their down-to-earth questions, the way their eyes light up when they have brought a book back to life, their laughs and giggles.
These wonderful kids, without even knowing it, give us impossible gifts, a little bit of our own youth and the precious opportunity to leave something behind. Lord, how I cherish these moments. When asked why they want to become a book doctor, they say:
I don't like to see a book hurt!
No book shall ever die!
It's fun to help a book in need.
I do not want books to go to waste.
It makes it all worthwhile.